Ivan Lee Lindsay 675
Born: 21 December 1942, Lincoln, Penobscot County, Maine 675
Died: 14 May 1992, Boston, Suffolk County, Massachusetts at age 49 1588
Crem.: 18 May 1992, Bangor, Penobscot County, Maine at Mt. Hope Cemetery 1588

Cause of his death was lymphoma.


Bangor Daily News
Bangor, Maine
May 15, 1992
p. 4

IVAN 'LEE' LINDSAY

WESTWOOD, MASS. and BANGOR -- Ivan "Lee" Lindsay, 49, died of lymphoma, May 14, 1992. He was the beloved son of Kenneth and Beverly (O'Brien) Lindsay of Bangor. He was the brother of Kenneth, Dale, Terry, Douglas and Kathleen Lindsay and Margaret Fenlason, all of the Bangor area. He leaves his close friends Howard J. Bronstein, Bill Walsh and Robert Downer. Relatives and friends may gather at J.S. Waterman & Sons Funeral Home, 495 Commonwealth Ave., at Kenmore Square, Boston 6-8 p.m. Saturday May 16. Parking attendants at funeral home entrance.


Events
• He had a residence in Westwood, Norfolk County, Massachusetts.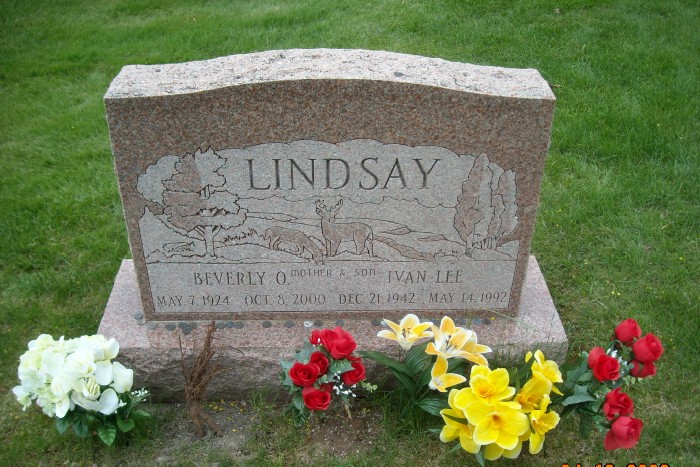 • He was buried at Mt. Hope Cemetery in Bangor, Penobscot County, Maine.