Edith Mae Greene 195,1712
Born: 11 June 1897, Donovan, Iroquois County, Illinois 1713
Marriage: Louis Vincent Keeley


The Herald News
Joliet, IL
Sunday, October 21, 2001

Edith Mae Keeley (nee Greene) -- Formerly of Plainfield, at Rome, GA, Wednesday, October 17, 2001. Age 104 years.

Survived by a sister, Doris Bundy of Joliet.

Preceded in death by her husband, Louis Vincent Keeley; a son, Buddy Keeley; a daughter, Janet K. Wood (1995) and a grandson, Brian Keeley Wood (1964).

Born in Donovan, IL, July 11, 1897, the daughter of the late Thomas and Eva Martin Greene.

Member of Plainfield United Methodist Church and was also an avid bridge player.

Graveside funeral services will be held at the Plainfield City Cemetery, Monday, October 22 at 1 P.M. Visitation will be held at the Carlson-Holmquist-Sayles Funeral Home, 2320 Black Road, Monday from 11:00 A.M. to 12:30 P.M.

CARLSON-HOLMQUIST-SAYLES
Funeral Home
2320 Black Rd.
(815)744-0022.


Events
• She had a residence in Silver Creek, Floyd County, Georgia.
• Her Social Security Number was 344-05-2013.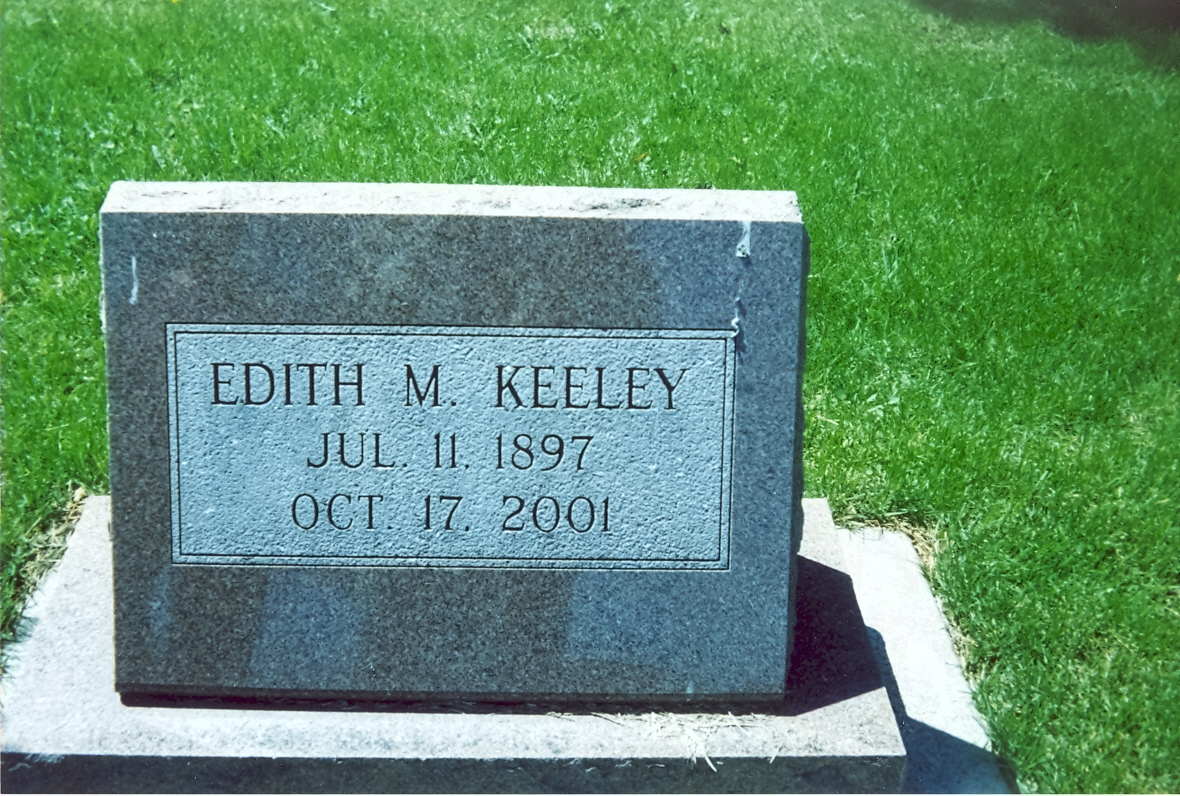 • She was buried at Plainfield Cemetery in Plainfield, Will County, Illinois.

Edith married Louis Vincent Keeley. (Louis Vincent Keeley was born 31 October 1894 in Ransom, LaSalle County, Illinois,1714,1715 died 28 November 1958 195,1714 and was buried after 28 November 1958 in Plainfield, Will County, Illinois at Saint Mary Immaculate Cemetery 1714.)