Evelyn Ruth Monroe 272,776


Bangor Daily News
Bangor, Maine
Monday, May 3, 2004
p. B6

EVELYN M. FOSTER
NORTH YARMOUTH

Evelyn M. Foster, 89, of Walnut Hill Road, formerly of Falmouth Road, Windham, died May 2, 2004 at a Freeport healthcare facility, following a long illness. She died surrounded by her loving family. Born Feb. 27, 1915, in Carroll, she was the daughter of Wilbur and Sara Lindsay Monroe.

Evelyn was educated in Garland schools and graduated from Garland High School. She also graduated from Waldo County General Hospital Nursing School in 1935. She delighted in cooking for many family gatherings and will always be remembered for her homemade bread and pies in addition to the fresh vegetables from the garden. Her interests included knitting, gardening, watching the many birds at her feeders and the challenges of keeping the squirrels away from them. Evelyn was an inspiration to her family and has left them with many wonderful, happy memories.

She was married to Morrison (Slim) H. Foster for 49 years until his death in 1984.

Surviving her are sons, Jack and his wife, Audrey, of York, Morrison (Mike) of Steep Falls, Patrick and his wife, Margaret of Scarborough; daughters, Joan Little of Oak Harbor, Wash., Priscilla Brobst and her husband, Richard of North Yarmouth, with whom she had made her home; 14 grandchildren; 22 great - grandchildren; and a great - great - grandchild; sisters, Ora Monroe of Temple City, Calif., Virginia Reid of Venture, Calif. and Phyllis Settles of Seneca, S.C.; brothers, Philip Monroe of Azusa, Calif., Roger Monroe of Glendora, Calif.; numerous nieces and nephews.

There will be no visiting hours. A celebration of Evelyn's life will be held at 3 p.m., Monday, May 3, at the First Congregational Church of North Yarmouth (UCC). Interment in Dolley Cemetery, Windham will be private.

In lieu of flowers, donations may be made to the charity of your choice. Arrangements are by Dolby Funeral Chapel, Windham.


Events
• She had a residence in Garland, Penobscot County, Maine.
• She appeared on the census in 1930 in Garland, Penobscot County, Maine. She lived in the household of her parents.
• She had a residence in North Yarmouth, Cumberland County, Maine.
• Her Social Security Number was 007-46-5212.
• Her funeral was held at Dolby Funeral Chapel 3 May 2004 in Windham, Cumberland County, Maine.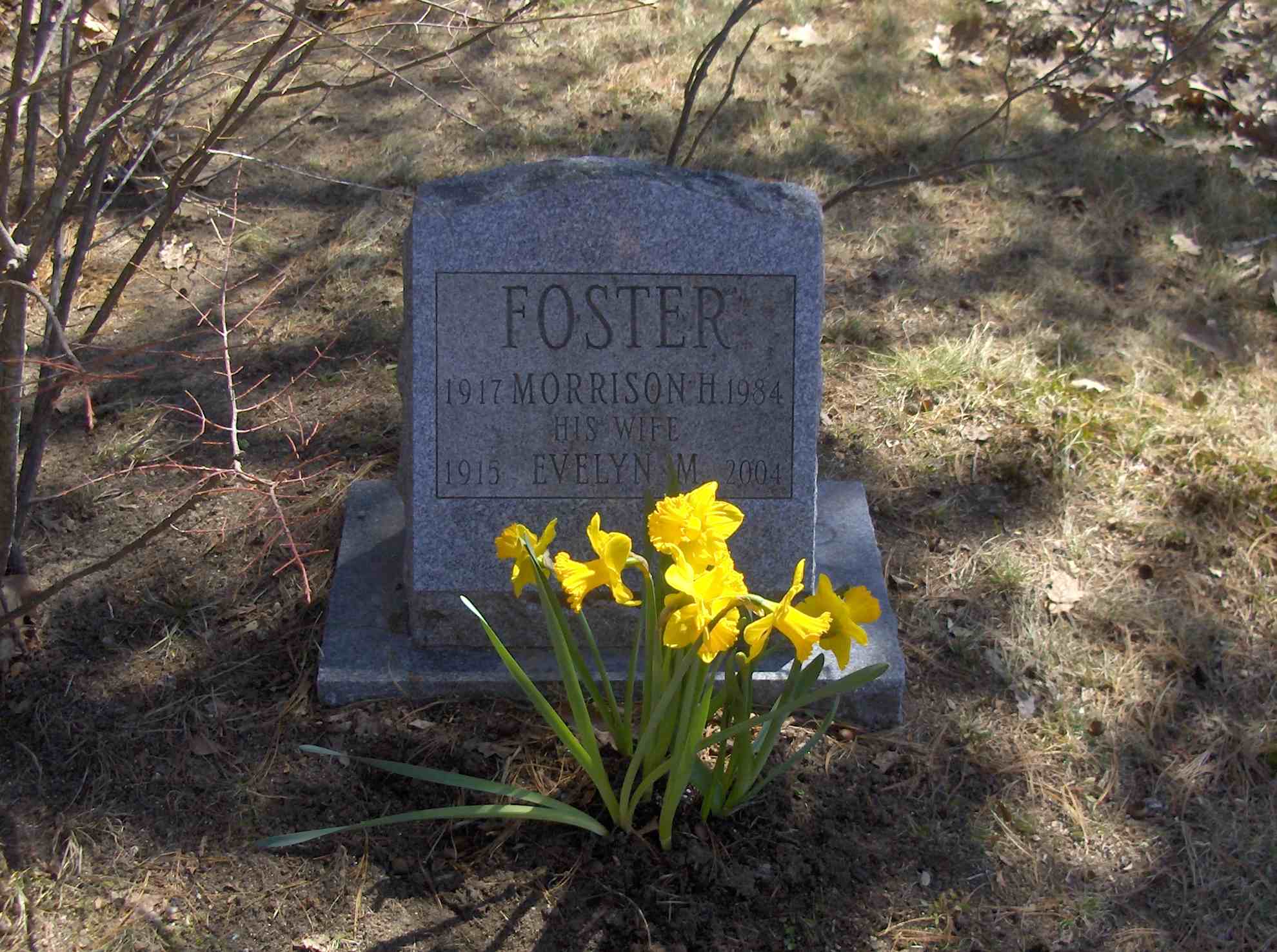 • She was buried at Dolley Cemetery in Windham, Cumberland County, Maine.

Evelyn married Morrison Herbert Foster, son of John Foster and Letha Cole, 24 December 1935 in Maine 426.,776 (Morrison Herbert Foster was born 8 August 1917 in St. Albans, Somerset County, Maine,776,1788 died 29 December 1984 in Windham, Cumberland County, Maine 1788,1789 and was buried after 29 December 1984 in Windham, Cumberland County, Maine at Dolley Cemetery 1788.)