Thomas Y. Yates

Cause of his death was lung fever.


Portrait and biographical record of Iroquois County, Illinois
Chicago; Lake City Publishing Co., 1893
http://www.rootsweb.com/~ilicgs/bio/bio.htm

THOMAS Y. YATES, a prominent and well-known farmer of Iroquois Township, residing on section 10, has for more than half a century made his home in this county, and in presenting to our readers the history of his life we record the history of an honored pioneer, a self-made man and valued citizen. He was born in Clermont County, Ohio, February 14, 1818, and is of French descent. His great-grandfather Yates and four of his sons were killed by the Indians in the Wyoming Massacre during the Revolutionary War, after which the two remaining sons joined the Colonial army and fought in the War for Independence.

The father of our subject, Artus Yates, was a native of New Jersey, and when a lad of sixteen years removed to Ohio with his father, Thomas Yates, one of the early settlers of Clermont County. He there married Lydia Stump, a native of Kentucky, who, when a maiden of seven summers, went to the Buckeye State. Her father, William Stump, was a German by birth and was an early settler both of Kentucky and Ohio. After his marriage, Mr. Yates engaged in farming in Ohio until the autumn of 1837, when he came to Illinois and cast in his lot among the early settlers of Iroquois County. Here he made his home until his death, which occurred in 1848. His wife died about a week previous and they were buried side by side in the Spencer Cemetery, where a monument has been erected to their memory.

We now take up the personal history of our subject, who spent the days of his boyhood and youth in Clermont County, Ohio. He is self-educated as well as self-made financially and through his own efforts has become a well-informed man. He came to this county with his father when nineteen years of age. At that time there was not a bridge between the Wabash River and Chicago, not a stream in Iroquois County was bridged and the place was almost an unbroken wilderness. He experienced all the hardships and privations incident to frontier life and has been prominently identified with the upbuilding and development of the county. To the early pioneers is due a debt of gratitude which can never be repaid for what they have done in behalf of the county, placing it in the front rank imi this great commonwealth. Mr. Yates aided his father in developing and improving land until he had attained his majority.

On the 2nd of Februamy, 1843, the marriage of our subject and Miss Isabella H. Wilson was celebrated. The lady was born in Baltimore, Md., and acquired her education in that city. The young couple began their domestic life near L'Erable and afterwards removed to Martinton Township, where Mr. Yates cleared and improved land and engaged in agricultural pursuits and in stock-raising for about a quarter of a century. He had a large stock farm and engaged in raising cattle extensively, shipping to Chicago. His landed possessions at one time aggregated more than fifteen hundred acres. He afterwards sold out and removed to Iroquois Township, locating on the Iroquois River. He has now opened up four farms in this county and his present home on section 10, Iroquois Township, comprises three hundred and forty acres of valuable land, which is under a high state of cultivation and improved with good buildings and all the accessories of a model farm.

In 1890, Mr. Yates was called upon to mourn the loss of his life partner, who passed away on the 17th of May. She had been a true and faithful helpmate to him for forty-one long years, and was a faithful Christian and a consistent member of the Presbyterian Church. Her remains were interred in Lima Cemetery, where a monument marks her last resting-place. Unto Mr. and Mrs. Yates were born four children: Mary Jane, wife of Leander Cadore, who resides in Iroquois County, and by him has six children; William, who is married and resides with his family in Iroquois Township; Scott, who is merchandising in Pittwood: and Florence, wife of Henry McKee, a farmer of Iroquois Township.

Of late years, Mr. Yates has been identified with the Democratic party. In early life he was an old-line Whig and cast his first Presidential ballot for Henry Clay. He has never been an aspirant for public office but has given his time and attention exclusively to his business; in which he has met with excellent success. For more than half a century he has been a resident of Iroquois County, having witnessed almost its entire growth and upbuilding. When he came here he had ample opportunity to indulge a taste for hunting and he has killed many deer, foxes and wolves. In the work of transforming its wild land into beautiful homes and farms he has borne an important part. He has seen its hamlets grow into thriving towns, while many of its leading villages had not yet sprung into existence on his arrival. Chicago itself consisted of only a few cabins. Mr. Yates has seen the introduction of the railroads, the telegraph and telephone, and of all those industries which mark the progress of civilization. He is a man of unblemished character and sterling worth and has the confidence and esteem of all with whom he has been brought in contact.


Events
• He worked as a stock raiser and school teacher.
• He was a registered democrat.
• He appeared on the census in 1860 in Feesburg, Brown County, Ohio. He lived in the household of his parents along with his young son.
• He appeared on the census in 1870 in Martinton, Iroquois County, Illinois. He was head of household. His real estate was valued at $20,000. His personal estate was valued at $4,000.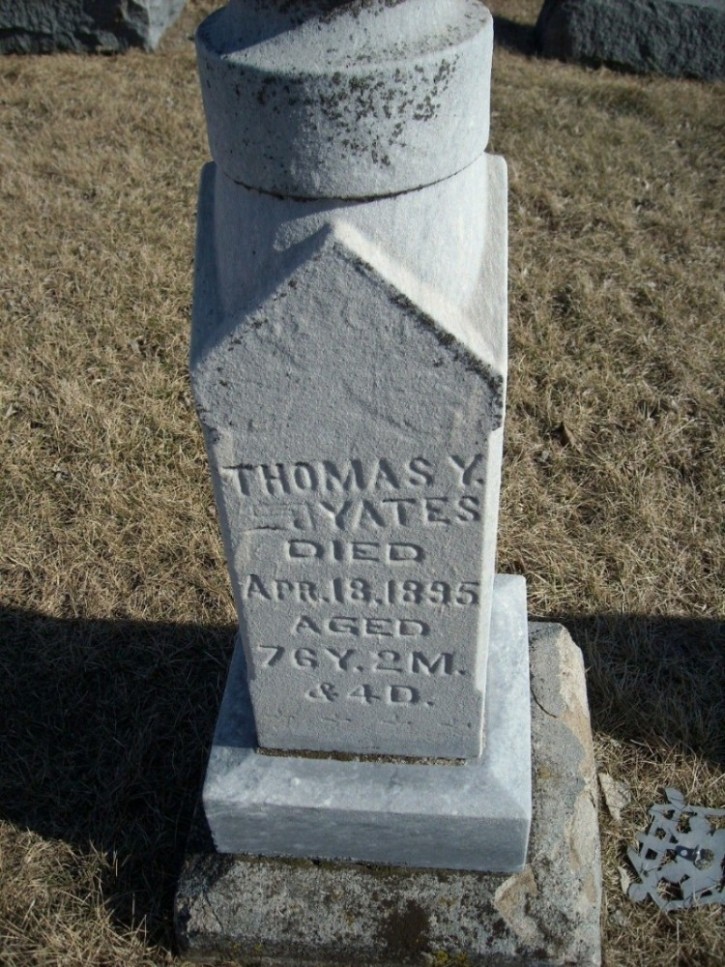 • He appeared on the census in 1880 in Iroquois, Iroquois County, Illinois. He was head of household.

Thomas married Isabella H. Wilson 2 February 1843.1920 (Isabella H. Wilson was born 17 September 1818 in Baltimore, Baltimore County, Maryland, died 17 May 1890 and was buried after 17 May 1890 in Pittwood, Iroquois County, Illinois at Lyman Cemetery.)