Joyce Maxine Coffin 1942


Bangor Daily News
Bangor, Maine
Jan. 24, 2002
p. B7

JOYCE M. LINDSAY

SPRINGFIELD -- Joyce M. Lindsay, 73, passed away Jan. 22, 2002 in Lincoln. She was born in Lakeville, Sept. 24, 1929, the daughter of Elmer and Hazel (Thibodeau) Coffin.

She was a graduate of Lee Academy, Class of 1947. In the early 50s, she and her husband, Jerry Lindsay, moved to Southern California where they resided for the next 20 years. While in California, Joyce worked in an antique shop at the popular "Knox Berry Farm Theme Park." She even got to meet a few celebrities who would often come into the shop to buy antiques -- John Wayne being one of them. In the early 70s, she and her husband moved back to Maine and settled in Springfield, where they owned and operated "Joyce's Web Antiques" until their retirement. Joyce will be remembered for her laughter, as a caring and loyal friend, who was always ready to give a word of encouragement and support when needed. She loved the outdoors and all the wild "critters" that she befriended and fed daily. She loved her special animal friends, Duncan, Ming and Cindy, who gave her love back and much enjoyment.

She is survived by her husband of 53 years, Jerry Lindsay of Howland; a daughter, Mary York of North Carolina; a granddaughter, Mandy and her husband, Paul Farrington II of Springfield; a grandson, Justin York of Lewiston; two great-grandchildren, Marianna and John of Springfield; a brother, Alton Coffin of Lee; two sisters, Virginia and her husband William Walker of Zephyrhills, Fla., and Leona and her husband, Jerre Crocker of Lee; many nieces and nephews.

Joyce was dearly loved and will be greatly missed. At her request, there will be no public visitation. Graveside services will be held in the spring at Woodlawn Cemetery, Lee. Arrangements by Clay Funeral Home, Lincoln.


Events
• She appeared on the census in 1930 in Lee, Penobscot County, Maine. She lived in the household of her parents.
• She appeared on the census in 1940 in Lee, Penobscot County, Maine. She lived in the household of her parents.
• She had a residence in Springfield, Penobscot County, Maine.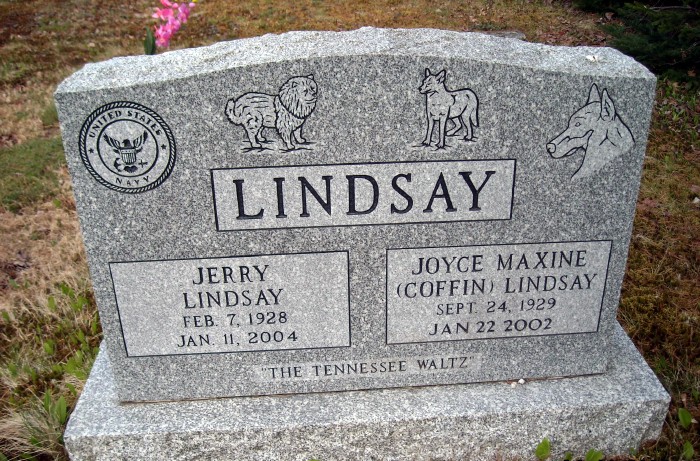 • She was buried at Woodlawn Cemetery in Lee, Penobscot County, Maine.

Joyce married Jerry Lindsay, son of Alvin Harold Lindsay and Gertrude Blanche Elsemore, 25 December 1948 in Millinocket, Penobscot County, Maine.1941 (Jerry Lindsay was born 7 February 1928 in Carroll, Penobscot County, Maine,1213,1947,1948,1949 died 11 January 2004 in Lincoln, Penobscot County, Maine 1947,1948,1949,1950 and was buried after 11 January 2004 in Lee, Penobscot County, Maine at Woodlawn Cemetery 1948,1949.)