Hazle Avis Thibodeau 1961


Bangor Daily News
Bangor, Maine
August 10, 1995
p. B7

HAZLE AVIS COFFIN

LEE -- Hazle Avis Coffin, 87, went home to be with the Lord, August 9, 1995, from Howland. She was born in Lakeville Plantation, Aug. 24, 1907, the daughter of Linnus and Myra (Murdock) Thibodeau. Hazle was a loving wife and mother. In her younger years, she liked to crochet, knit and make rugs. She also was an excellent cook, enjoyed gardening, especially with flowers, and always had a beautiful flower garden. She had a great love for children, and was a very special loving, caring person, always ready with a helping hand to others. She will be greatly missed.

She is survived by one son, Alton Coffin of Lee; three daughters, Virginia and her husband, William Walker of Zephyrhills, Fla.; Joyce and her husband, Jerry Lindsay, of Springfield, and Leona and her husband Jerre Crocker of Lee; 13 grandchildren, 26 great-grandchildren, nine great-great grandchildren; a sister-in-law, Lena Scott of Downey, Calif.; many nieces and nephews. In addition to her husband, Elmer L. Coffin who died in 1980, she was predeceased by a brother, four sisters, and a grandson.

Friends and family may call 2-4 and 7-9 p.m. Thursday at the Clay Funeral Home in Lincoln. Funeral services will be held 1 p.m. Friday at the funeral home with the Rev. Priscilla Schumm officiating. Interment will be in Woodlawn Cemetery, Lee. Friends and relatives are welcome to Mallett Hall after the committal service.




Events
• She had a residence in Lee, Penobscot County, Maine.
• She had a residence in Howland, Penobscot County, Maine.
• Her Social Security Number was 004-50-6421.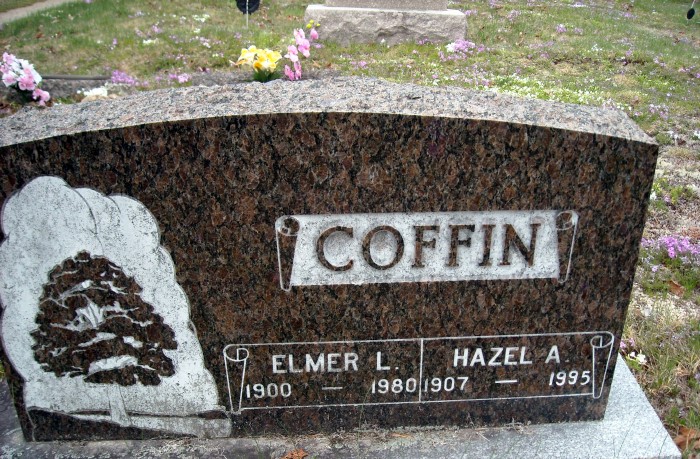 • She was buried at Woodlawn Cemetery in Lee, Penobscot County, Maine.

Hazle married Elmer L. Coffin 17 March 1923 in Maine.426 (Elmer L. Coffin was born 28 February 1900 in Lincoln, Penobscot County, Maine,1952,1953,1954 died 19 June 1980 in Lincoln, Penobscot County, Maine 1953,1954,1955 and was buried after 19 June 1980 in Lee, Penobscot County, Maine at Woodlawn Cemetery 1954.)