Jesse Albion Merrill Sr. 1320


Bangor Daily News
Bangor, Maine
March 7, 1983
p. 26

Jesse S. Merrill, Sr.

St. Albans -- Jesse A. Merrill, Sr., 87, died March 5, 1983 at his residence on the Mill Hill Road.

He was born in Mars Hill Dec. 15, 1895, the son of Albion F. and Margaret (Palmer) Merrill. He had been a resident of St. Albans for the last 39 years, having previously lived in Prentiss. He had been engaged in farming all of his life. He was a former member of the St. Albans Grange and was an elder of Skowhegan Ward, Church of Jesus Christ of Latter Day Saints.

He is survived by his wife, Dora of St. Albans; three sons, Haley of Dexter, Clinton of Olympia, Wash., and Jesse Jr. of St. Albans; four daughters, Eunice Lindsay of Lincoln, Leta Downs of Vancouver, Wash., Lois Emerson of Pittsfield and Shirley Cottrell of Orem, Utah, 39 grandchildren, 43 great-grandchildren.

Funeral services will be held 1 p.m., Wednesday, at the Donald H. Shorey Funeral Chapel, Pittsfield, where friends may call 4-5 and 7-8 p.m. Tuesday. Spring burial will take place in Prentiss Cemetery.


Events
• He had a residence in Prentiss, Penobscot County, Maine.
• His Social Security Number was 006-05-2461.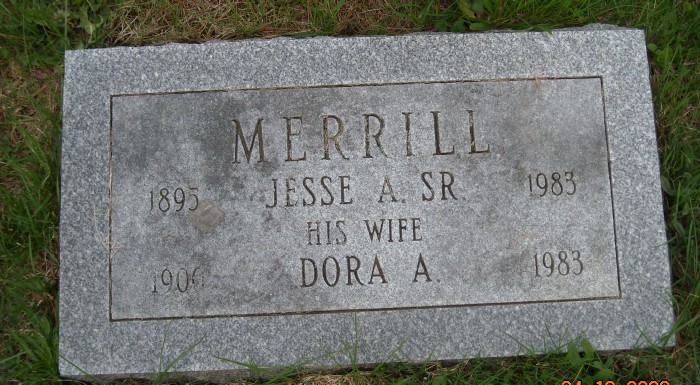 • He was buried at Thompson Cemetery in Prentiss, Penobscot County, Maine.

Jesse married Dora Agnes Butters 7 November 1917 in Prentiss, Penobscot County, Maine.253 (Dora Agnes Butters was born 13 February 1900 in Carroll, Penobscot County, Maine,1320,2278,2279 died 17 September 1983 in Orem, Utah County, Utah 2278,2279,2280 and was buried 21 September 1983 in Prentiss, Penobscot County, Maine at Thompson Corner Cemetery 2278,2280.)