Bangor Daily News
Bangor, Maine
September 19, 1983
p. 26

DORA AGNES MERRILL

ST. ALBANS -- Dora Agnes Merrill, 83, died Sept. 17, 1983, unexpectedly, while visiting her daughter in Orem, Utah.

She was born in Carroll, Feb. 13, 1900, the daughter of Albra and Maybelle (Chubbuck) Butters. She had lived in St. Albans since 1939, and had previously lived in Prentiss. She was a former member of the St. Albans Grange and a member of the Skowhegan Ward, the Church of Jesus Christ of Latter Day Saints.

She was predeceased by her husband, Jesse A. Merrill, Sr., on March 5, 1983. She is survive by three sons, Haley A. of Dexter, Clinton E. of Olympia, Wash., and Jesse A. Jr. of St. Albans; four daughters, Eunice V. Lindsay of Lincoln, Leta M. Downs of Vancouver, Wash., Louis P. Emerson of Pittsfield, Shirley A. Cottrell or Orem, Utah; three brothers, Bennie Glidden of Gardiner, Amos Glidden of Scarborough and Clifton Glidden of Carroll; one sister, Edna King of Carroll; 39 grandchildren; 43 great grandchildren; one great great grandson; several nieces and nephews.

Funeral services will be held 10 a.m. Wednesday at Donald H. Shorey Funeral Chapel, Pittsfield, where friends may call 2-4 and 7-8 p.m. Tuesday. Burial and graveside services will be held at Thompson Cemetery, Prentiss, 2 p.m. Wednesday.


Events
• She had a residence in Prentiss, Penobscot County, Maine.
• She had a residence in St. Albans, Somerset County, Maine.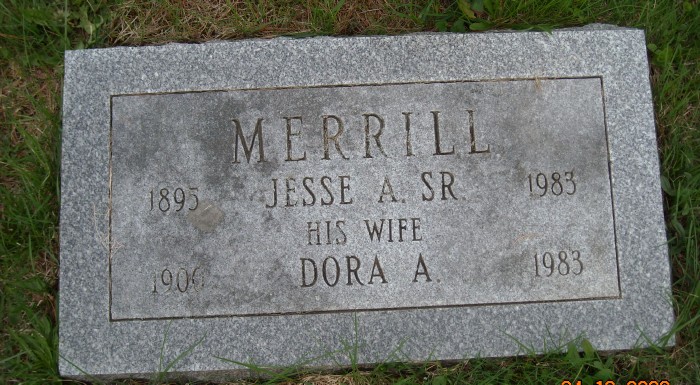 • She was buried at Thompson Cemetery in Prentiss, Penobscot County, Maine.
• Her Social Security Number was 004-14-6917.

Dora married Jesse Albion Merrill Sr. 7 November 1917 in Prentiss, Penobscot County, Maine.253 (Jesse Albion Merrill Sr. was born 15 December 1895 in Mars Hill, Aroostook County, Maine,2273,2274,2275,2276 died 5 March 1983 in St. Albans, Somerset County, Maine 2275,2276,2277 and was buried after 5 March 1983 in Prentiss, Penobscot County, Maine at Thompson Corner Cemetery 2276.)