Caroline F. Grice

Cause of her death was consumption.


Iroquois Journal
April 23, 1851

Died -- On Spring Creek, on the 4th inst., Mrs. Caroline Lindsey, wife of Thomas Lindsey, aged 23 years.

In the death of this aimable lady, her husband has lost a kind and loving wife, and her dear infant a devoted mother. We, as a neighborhood, feel our loss. She was an ornament to our sex, an example worthy of imitation.

M.L.B [Maria Lindsey Boyd]

The following lines were composed on the death of Mrs. Caroline Lindsey, while she lay a corpse:

Life's but a span, a fleeting hour,
How soon we mortals die,
Cut off by death, this lovely flower
Soon in the grave must lie.

The once loved form now cold in death,
Doth all our thoughts employ.
Calm was her life, and calm her death,
The thoughts of heaven her joy.

The mourning husband, oh how great
The loss to him doth seem,
Bereft of her who has of late
His joy and comfort been.

The little infant mother's pledge,
Is all of earth to love;
His little limbs are yet unfledged--
His mother's gone to God.

The aged futher feels alone,
Thrice friends have gone from him:
She has gone to join them 'round God's throne,
And sweet hosannas sing.

The Lord of all who reigns on high,
Hath called the sufferer home,
Where tears are wiped from every eye,
And sorrows never come.

There will the great creator God,
All tongues and nations bring.
Then, with submission kiss the rod,
And praise your Heavenly King.

Maria L. Boyd


Events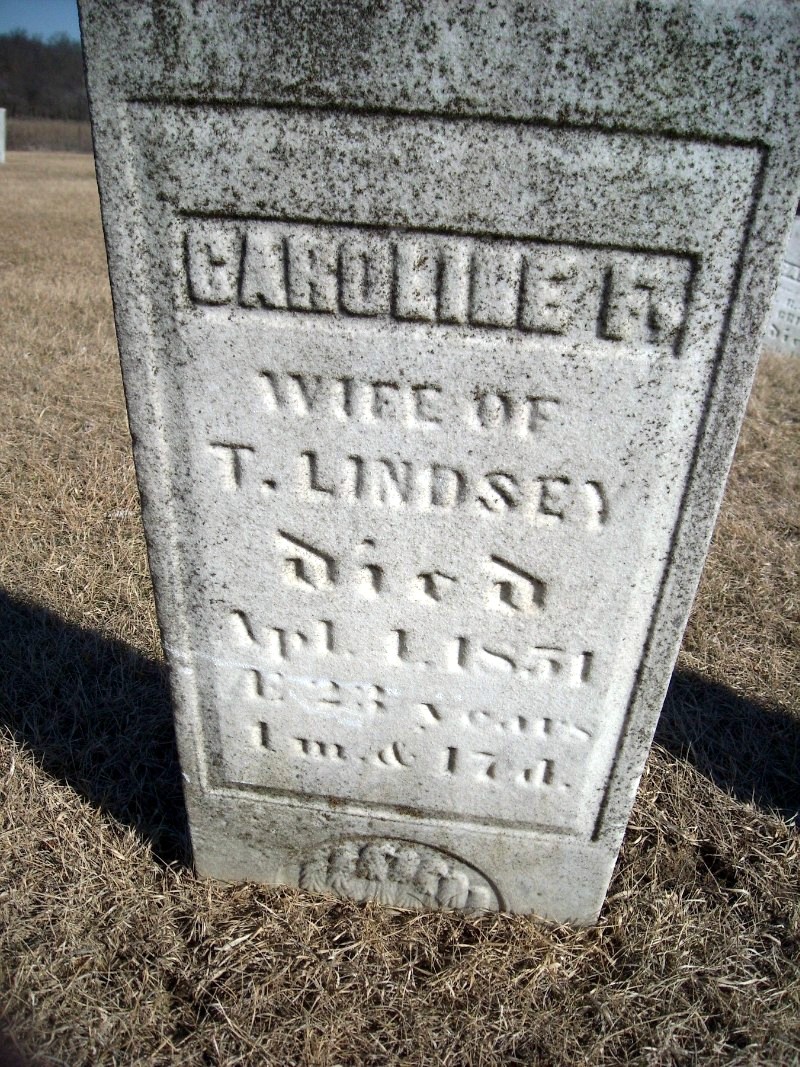 • She appeared on the census in 1850 in Onarga, Iroquois County, Illinois.

Caroline married Thomas Lindsey, son of Rowland Bailey Lindsey and Phebe Russell, in 1849.439 (Thomas Lindsey was born 28 November 1823 in Mason County, Virginia,381,439 died 29 May 1891 381,442 and was buried 31 May 1891 in Del Rey, Iroquois County, Illinois at Del Rey Cemetery 381,442.)