Sun Journal
Lewiston, Maine
June 30, 2000
p. A4

Frank G. McManus
1918 - 2000

LEWISTON -- Frank G. McManus, 82, a resident of North Road, Leeds, died Thursday afternoon, June 29, at Russell Park Manor Nursing Home following a short illness.

He was born June 24, 1918 in Amity, the son of John Jennings and Annie L. Gerrish McManus. He received his education in Unity, Leeds and graduated from Monmouth Academy. He married Marjorie L. James [sic] on Nov. 30, 1941 in Monmouth. She died Dec. 7, 1976.

He worked in the woods for many years, as well as the Buckley Farm of Leeds. For the last 20 years, he especially enjoyed working as a custodian at the Leeds Central School. He retired in 1998 at the age of 80. His family was his whole life.

He is survived by one daughter, Sandra McNear of Leeds; one son, Daniel and his wife Patricia of Leeds; one brother, Paul and his wife Celia of Leeds; six grandchildren, Natalie Brogan, Pamela McNear, Crystal Dorr, Martha Taylor, Brock and Tamson McManus; and six great grandchildren.

***************
Sun Journal
Lewiston, Maine
July 6, 2000
p. A4

Frank G. McManus

MONMOUTH -- Funeral services for Mr. McManus were held Saturday morning at the Bragdon-Finley Funeral Home. The Rev. Carl Gustafson officiated and interment followed by the service at Leeds Center Cemetery. A letter from the Leeds Central School, where Mr. McManus had worked for 20 years, was read by Chrystal Dorr. Bearers were Brock and Paul McManus, Phillip Taylor, Rodney and Greg Jennings, and Todd Hartford.


Events
• His Social Security Number was 006-03-8267.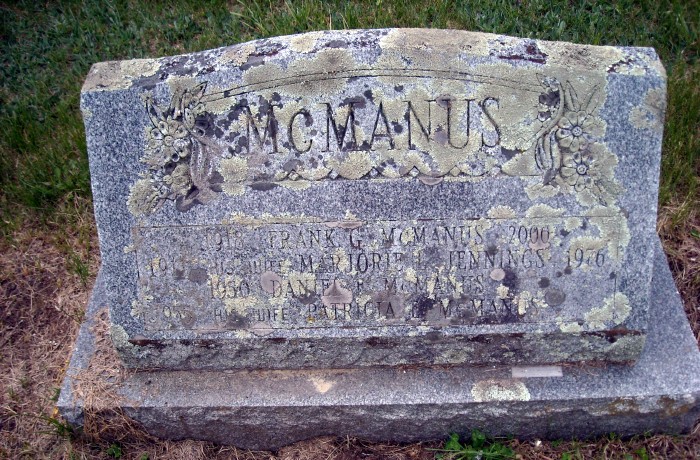 • He was buried at Leeds Center Cemetery in Leeds, Androscoggin County, Maine.

Frank married Marjorie J. Jennings, daughter of Daniel Maine Jennings and Sadie E. Hobbs, 30 November 1941 in Monmouth, Kennebec County, Maine.3483 (Marjorie J. Jennings was born 17 June 1911 in Leeds, Androscoggin County, Maine,420,3485 died 7 December 1976 in Leeds, Androscoggin County, Maine 420,3486 and was buried 9 December 1976 in Leeds, Androscoggin County, Maine at Leeds Center Cemetery 420.)