Ralph Gilbert Buckley 4334


Lewiston Daily Sun
Lewiston, Maine
Thursday, October 5, 1950
p. 3

Graduate of C.M.G. Nursing School Weds At East Monmouth

The East Monmouth Methodist Church was the scene of the marriage of Miss Constance Madeline Smith, daughter of Mr. and Mrs. G. Clinton Smith of East Monmouth and Ralph Gilbert Buckley, son of Mr. and Mrs. Guy G. Buckley of Leeds Center, on Saturday evening, Sept. 30.

Joseph E. LeMaster, the pastor of the church, performed the ceremony using the double ring service. The church was decorated with Autumn leaves and Fall garden flowers.

Miss Mary Wood of Greene was the organist, playing the bridal chorus from "Lohengrin" by Wagner and the Wedding March from "Midsummer Night's Dream" by Mendelssohn, Miss Ruth Wood of Greene sang, "Because."

The bride was escorted to the alter by her father who gave her in marriage. Her gown was of white satin, simply made with a square-necked bodice and full skirt with train' and veil was of illusion in fingertip length. She wore a string of pearls, the gift of the bridegroom, and carried a bouquet of white chryssanthemums and bride's roses.

Attending the bride as maid of honor was her sister, Miss Amber Smith. Her gown was of blue satin trimmed with taffeta, she wore long blue mitts to match and carried orchid-pink chyrsanthemums.

The best man was a brother of the bridegroom, Russell Buckley, and the ushers were Raymond O. Smith and Fred W. Smith, brothers of the bride.

A reception was held at 8 o'clock at the vestry of the church which was decorated with Autumn flowers and foliage. The wedding had been attended by the families of the bride and groom but the reception was for friends and neighbors also. The bride and bridegroom and their attendants formed the receiving line.

Refreshments were served by Mrs. Grant Tapley of Mexico, a sister of the bride, assisted by Robert Smith, Mrs. George Ridlon and the Misses Marguerite and Dorothy Marshall. The gifts were in charge of Mrs. Milton MacCabe of Leeds, a sister of the bride, and the guest book was in charge of Mrs. Russell Buckley of Leeds, sister-in-law of the bridegroom.

For the wedding, the bride's mother chose a dark blue crepe dress with a corsage of talisman roses. The groom's mother wore Copenhagen blue crepe with corsage of talisman roses.

In the exchange of gifts, the bride gave her maid of honor a jewel case and the others who assisted received hobby gifts. She gave her husband a leather dressing case. His best man and ushers received tie clips.

For the wedding trip, the newlyweds went to New York City. The bride's traveling suit was of green with brown accessories and her corsage was of bronze chrysanthemums. On their return they will live in Leeds Center.

Mrs. Buckley was born in Litchfield, attended the Monmouth schools and was graduated from Monmouth Academy and the Training School for Nurses of the C.M.G. Hospital in Lewiston. She has served on the staff of the hospital since her graduation. Mr. Buckley was born in Leeds, was graduated from Leavitt Institute and from Bliss Business College. He is engaged in farming with his father.

Wedding guests from out of town included Mrs. and Mrs. Guy G. Buckley, Mr. and Mrs. Russell Buckley and daughter Gailene, Mr. and Mrs. Milton MacCabe, all of Leeds; Mr. and Mrs. Jesse Sanborn, Mrs. John C. Wood, the Misses' Mary and Ruth Wood, Greene; M.B. Fogg, Miss Evelyn Fogg, Miss Virginia Spencer and William Spencer, Lewiston; Miss Margaret Marshall, Miss Dorothy Marshall of Cambridge, Mass.; Mr. and Mrs. Grant Tapley and children of Mexico, Mrs. Willard E. Lane, Jr. of Gardiner.


*****
Morning Sentinel
Waterville, Maine
June 28, 2005


LEWISTON -- R. Gilbert Buckley, 82, a resident of Route 106, Leeds, died Sunday morning at Central Maine Medical Center, where he had been a patient.

He was born April 4, 1923, in Leeds, the son of Guy Gilbert and Gladys (Canwell) Buckley. He attended school in Leeds and was a 1940 graduate of Leavitt Institute. In 1942 he graduated from Bliss Business College in Lewiston.

On Sept. 30, 1950, in East Monmouth, he married Constance Smith of Monmouth. They made their home and raised their family in Leeds. He was the owner and operator of Buckley Farms in Leeds, working as a farmer and cattle dealer and retiring in 1999. He was a selectman for the town of Leeds for one year and a member of Leeds Community Church.

He is survived by his wife, Constance of Leeds; a son, Dwight Buckley and his wife, Audrey, of Leeds; a daughter, Sharon Leslie Buckley of Auburn; grandchildren Aaron James Buckley and Brett Gilbert Buckley; and a brother, Raymond C. Buckley and his wife, Dorothy, of Lansing, N.Y. He was predeceased by a brother, Russell Buckley.

Visiting hours are 6-8 p.m. Tuesday at Bragdon-Finley Funeral Home, 707 Main Street, Monmouth. Funeral services will be held at 11 a.m. Wednesday, June 29, at Leeds Community Church, Church Hill Road, Leeds. Interment Leeds Center Cemetery, Route 106, Leeds, Maine.

If desired, contributions may be made to: Russell Medical Center, Church Hill Road, Leeds 04263; or Leeds Community Church, Church Hill Road, Leeds 04263. Messages of condolence may be sent to: bfinleyfh@adelphia.net.


Events
• He appeared on the census in 1930 in Leeds, Androscoggin County, Maine. He lived in the household of his parents.
• He appeared on the census in 1940 in Leeds, Androscoggin County, Maine. He lived in the household of his parents.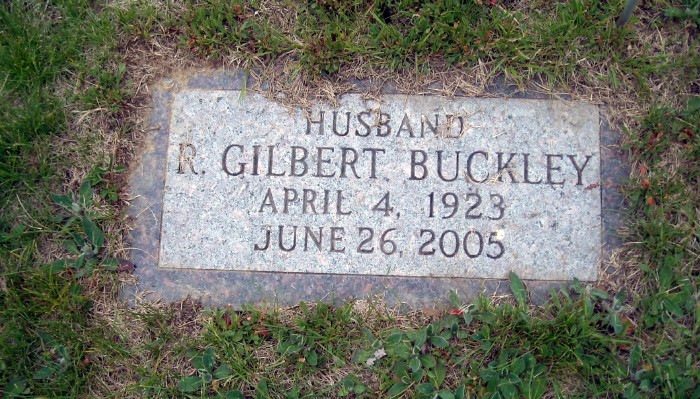 • He was buried at Leeds Center Cemetery in Leeds, Androscoggin County, Maine.

Ralph married Constance Madeline Smith, daughter of George Clinton Smith and Dorothy Ellen Frost, 30 September 1950 in East Monmouth, Kennebec County, Maine 426.,4337 (Constance Madeline Smith was born 20 February 1925 in Litchfield, Kennebec County, Maine 4339.)