Wanda G. Thompson 426,4269


Bangor Daily News
Bangor, Maine
Jan. 14, 1974
p. 18

WANDA BISHOP

MILO -- Wanda Bishop, 51, died in a Bangor hospital Saturday. She was born in Sangerville Jan. 25, 1922, the daughter of Fred and Lillian (Ronco) Thompson. She was employed by the Bangor and Aroostook Railroad.

She is survived by her husband, Arthur Bishop of Milo; one sister, Mrs. John Leonard of Hampden; several aunts, uncles, nieces and nephews.

Funeral services will be held at the Lary Funeral Home, Milo, Monday 1 p.m. Burial will be at the family lot Evergreen Cemetery, Milo.


Events
• She had a residence in Guilford, Piscataquis County, Maine.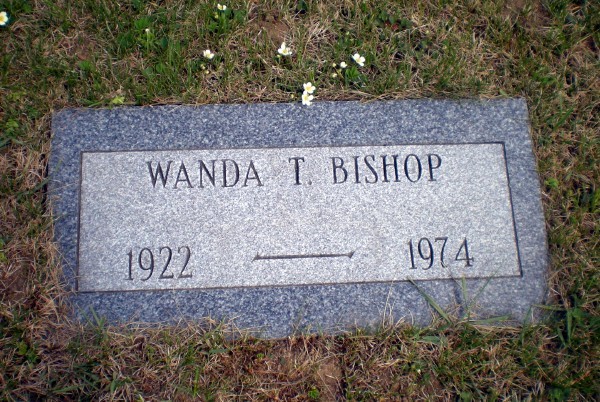 • She was buried at Evergreen Cemetery in Milo, Piscataquis County, Maine.

Wanda married Arthur Herbert Bishop, son of Herbert Wayland Bishop and Gertrude H. Hanscom, 25 December 1943 in Maine.426 (Arthur Herbert Bishop was born 21 February 1918 in Milo, Piscataquis County, Maine,4264,4265,4266,4267 died 20 September 1984 in Dover Foxcroft, Piscataquis County, Maine 4266,4267,4268 and was buried 22 September 1984 in Milo, Piscataquis County, Maine at Evergreen Cemetery 4266,4267.)