James Lindsey 383
Born: 11 July 1755, Bridgewater, Plymouth County, Massachusetts 1060
Baptized: 17 October 1756, West Bridgewater, Plymouth County, Massachusetts
Marriage: Phebe Pettingill 24 June 1779 in Easton, Bristol County, Massachusetts 382
Buried: After 19 January 1849, Leeds, Androscoggin County, Maine at Union Cemetery (formerly Wade's Cor. Cemetery) 1062


James enlisted as a private soldier with Massachusetts troops in the Revolutionary War at the age of twenty while still a resident of Bridgewater. He served nine months, as he testifies 43 years later:

"I, James Lindsey, aged sixty-three years, a citizen of the United States, born [in] Bridgewater, Massachusetts, now resident in Leeds in the District of Maine upon oath testify and declare that serving in the ninth month 1775 until November, I was discharged, and again enlisted in March 1776 in the War of the Revolution against common enemy upon the Continental Establishment and into the company commanded by Capt. Frederick Pope for the period of one year, in the first year served and in the regiment commanded by Col. Paul D. Sergeant, of the Massachusetts troops. I served in [?] company and regiment the full period of my interment, and was discharged at Stanford, New York the last of December 1776, or first of January 1777, after serving the full period of nine months in continuation without interruption. I was discharged in a poor state of health and did not leave the hospital until eight days after our company were discharged. "

Shortly after his war service, James married Phebe Pettingill and they had a large family of children, half born in Massachusetts and half in Maine. Four children died in infancy. Phebe was herself part of a large family that included ten other siblings.

On a Plymouth County deed dated 27 March 1788 or 1789, James Lindsey appears on record selling 34 acres of Bridgewater property to Isaac Johnson, Jr., yeoman, for 103 pounds, this land being the bulk of the family estate inherited by Thomas Jr. from his father in 1784. On a deed dated 16 April 1788 in the same county, James is part of another transaction in which he sells the remaining estate of his brother to George Robinson, clerk, for 24 pounds, 6 shillings.

The History of Leeds tell us that brothers James and William settled in Leeds, Maine in 1788. The above land transaction gives evidence of a move; however, James Lindsey appears on the 1790 U.S. census as head of household in Easton. The entry above him lists Elizabeth Lindsey as head of household. The seventh child of James was born in Easton 1 September 1789. It is not until 1792 that his presence is firmly established in Leeds with the birth of his eighth child. In 1801, he was appointed Constable for the town of Leeds.

Due to reduced circumstances, James sought the assistance of his country for financial support on 15 April 1818 after Congress passed an act entitled, "An Act to provide for certain persons engaged in the land and naval service of the United States in the Revolutionary War, " on 18 March 1818. James's plea reads as follows:

"The following is a schedule of my whole estate and income, necessary clothing and bedding excepted, viz: one cow of the value of fifteen dollars, one sheep of the value of one dollar and fifty cents, one deceased of the value of four dollars, one pig of the value of one dollar, old household furniture besides necessary bedding not exceeding the value of ten dollars. A few farming tools of the value of three dollars. Debts due me that can be collected not more than fifteen dollars and I owe as much as forty dollars. The income of the above does not exceed more than three dollars a year. My occupation is that of a laborer; but by [?] of [?], having one stiff arm being troubled much with the rheumatic, am able to do but very little labor. My family at home consists of myself, my wife, Phebe, aged sixty-five, my daughter, Anna, aged thirty-eight being very weakly, my daughter Persis, aged thirty-three years very much out of health."

James was 63 years of age at the time he was allowed pension on his application, which allotted him $8.00 per month. (See Revolutionary War pension claim S37621, pension certificate number 14.235, available at the National Archives in Washington, D.C.) Asa Wilbur and William Lindsey served as witnesses to James's service in the war.

While James petitioned the courts for pension funds, he was also being pursued by the proprietors of the Kennebec Purchase, from the late colony of new Plymouth, in a plea of ejectment whereby Lindsey was accused of illegally possessing approximately 70 acres of land and profiting ten dollars yearly from the premises. At about this time, a plea of ejectment was also made against his brother William.

The initial summons was sent to James the 19th of November 1816 by the Justices of the Circuit Court of Common Pleas, for the Second Eastern Circuit, to be held at Augusta, within and for the said County of Kennebec. Joseph Norris, Caleb Bates, and John May received summons to appear in court September of 1820 to testify their knowledge of an action or plea of ejectment. Another summons sent to Simon Dearborn Jr., Joseph Norris, Esq., Samuel Hilman, Clerk of Monmouth, Levi Fairfanks, yeomen of Winthrop, Caleb Bates, yeoman, and others requested their appearance in court for the same purposes on Tuesday the 22nd of May 1821. The Supreme Judicial Court of Augusta gave its final verdict that month finding Lindsey guilty of disseizing the property of the plaintiffs as set forth in the declaration. The property in possession of James was originally valued at seventy-four dollars; however, Lindsey made improvements to the land and buildings, thus increasing the value to eight hundred and fifty dollars. The Supreme Judicial Court at Augusta, May 1821, ruled as follows:

"And now at this time the said demandants make thru election in open court to abandon to the said Lindsey the lands and tenements defended by the tenant, at the price estimated by said Jury, agreeably to the law in such case provided."

James out-lived his wife Phebe by six years and is buried alongside the grave of his brother and sister-in-law, Thomas and Thankful Lindsey, at Union Cemetery in Leeds. An American flag waves proudly next to his grave.





Events
• He served in the military during the Revolutionary War in Bridgewater, Plymouth County, Massachusetts. He served in Capt. Daniel Lothrop's (Artillery) Co., Col. John Bailey's regt. from April 10, 1775 to May 2, 1775 (service 3 weeks, 2 days). The company was raised agreeable to vote of Provincial Congress, as ordered by Committee of Safety. He enlisted in the same company on May 3, 1775 (service 3 mos. 6 days). He also served in Capt. Daniel Lothrop's Co., Gen. John Thomas's regt. The company returned dated Roxbury, Oct. 6, 1775. This company ordered bounty coats to be delivered. James Lindsey and Israel Alger signed the receipt for the said coats Dec. 6, 1775. Reported discharged Sept. 6, 1775.
• He appeared on the census in 1790 in Easton, Bristol County, Massachusetts.
• He appeared on the census in 1800 in Leeds, Androscoggin County, Maine.
• He appeared on the census in 1810 in Leeds, Androscoggin County, Maine.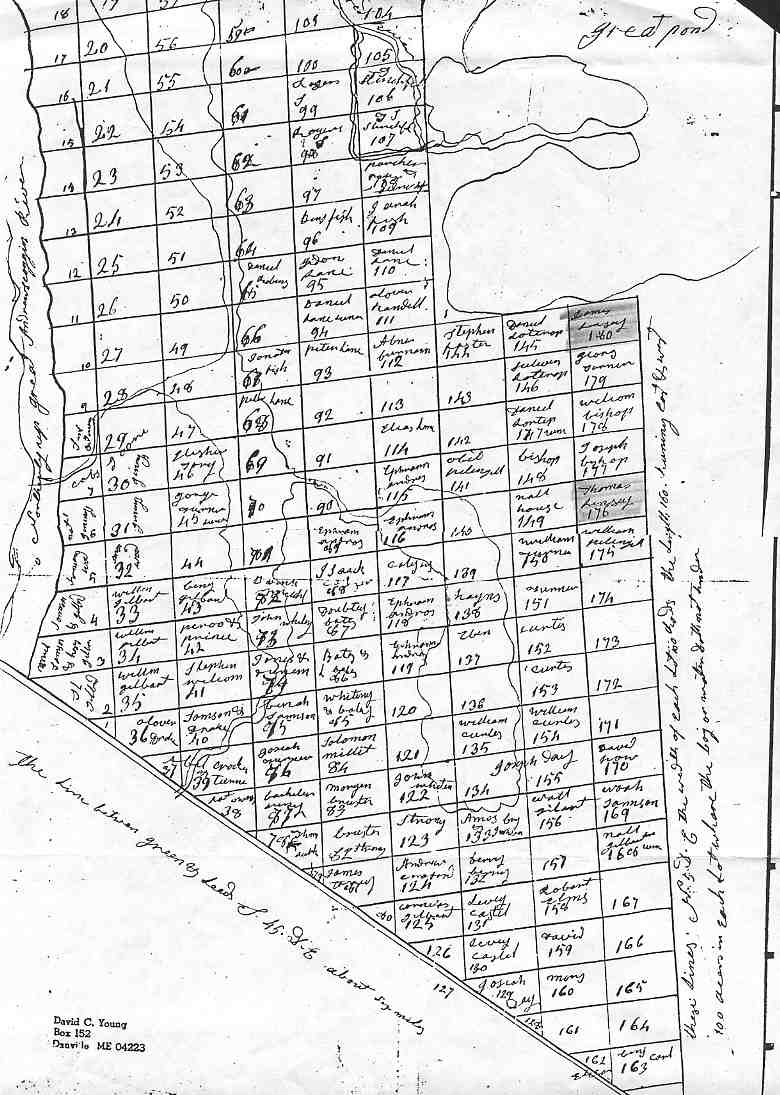 • He had a residence in Leeds, Androscoggin County, Maine.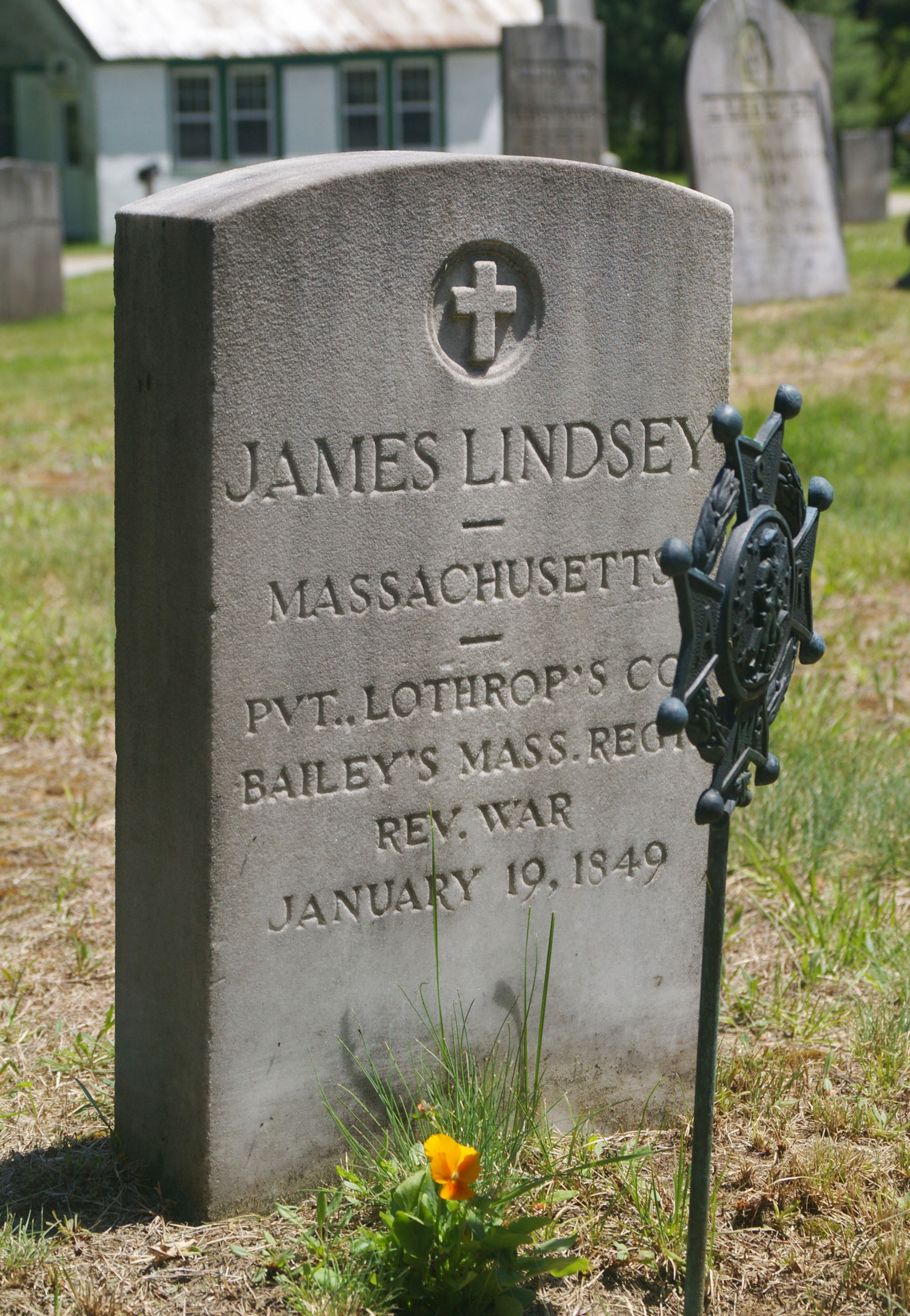 • He was buried at Union Cemetery in Leeds, Androscoggin County, Maine.

James married Phebe Pettingill, daughter of Joseph Pettingill and Lydia Phillips, 24 June 1779 in Easton, Bristol County, Massachusetts.382 (Phebe Pettingill was born 25 October 1755 in Bridgewater, Plymouth County, Massachusetts 645,773,1063, baptized 14 December 1755 in Brockton, Plymouth County, Massachusetts and died 13 October 1843 in Leeds, Androscoggin County, Maine 645,773.)