Gladys Hazel Lindsay 1434

Cause of her death was infant cholera (dehydration).


[Obituary courtesy of Mary Tilstra]

Hazel Gladys Lindsay was born at the Iroquois Hospital, Watseka, Illinois, May 24, 1928, and passed away at her home near Onarga, Ill. July 28, 1930 at the age of two years, two months and four days.

Little Gladys had always been unusually well so her death came as a terrible shock. Stricken acutely ill at 3:30 o'clock Monday afternoon, she was given all the care that could be ministered by medical aid and loving hands, 'til she fell asleep shortly after 7 o'clock.

Sometimes in the April-kissed springtime, the little flower we welcome as a snowdrop, dropps and dies, but its delicate face has inspired us to hope, and perfumed our life with thoughts of purity. It was even so with baby Gladys -- the tiny blossom of humanity that came to bless the home of Mr. and Mrs. Lester Lindsay.

This beautiful baby life was so precious, so frought with blessing to her parents that she seemed a flower of paradise permitted to bloom for a brief season by their side, then recalled to its nature skies, leaving the earth road them dark and lonely indeed.

One less at home.

The charmed circle broken -- a dear baby face.

Missed day by day from an accustomed place; but cleansed and saved and perfected grace.

One more in heaven.

Besides her bereaved parents, she leaves to mourn her departure her three year old sister, Blanche Elaine, her grandparents, Mr. and Mrs. Erle Jimison and Mr. and Mrs. E.J. Lindsey of Onarga, her great grandmothers Mrs. Estella Nichols of La Crosse, Ind. and Mrs. Martha Kindig of Los Angeles, Calif.; her great grandfather, Mr. W.H. Jimison of Onarga; her uncles, Willard Jimison and Lloyd Lindsay of Onarga; her aunt, Mrs. Ellis Hildenbrand of Buckley, and a host of other relatives and friends.

Funeral services were held at the Christian church Wednesday afternoon, with Rev. Burl Candler officiating. Sweet music was sung by the Misses Maxine McQueen and Elizabeth Marsh, with Mrs. Floyd McQueen at the piano. The small body was laid to rest in the Onarga Cemetery.

Among those from out of town who attended the services were: Mr. and Mrs. E.E. Lindsey, Champaign; Mrs. Carl Tammen and daughter Arelene; Mrs. Bailey, Mr. and Mrs. Arthur Bailey and Warren Bailey of Gilman; Miss Carrie Coiner and Mrs. Perry Rhodes of Danforth; Mrs. Belle Johnson, Mrs. Adda Sandiford, Mrs. Merrill Clark of Watseka.

To all the friends whose sympathy and services were so kindly tendered in our time of bereavement; and to the threshing rings who paused from work during the funeral of our little Gladys, we extend our sincere thanks.

Mr. and Mrs. Lester Lindsay,
Mr. and Mrs. Erle Jimison,
Mr. and Mrs. E.J. Lindsay


Events
• She appeared on the census in 1930 in Onarga, Iroquois County, Illinois. She lived in the household of her parents.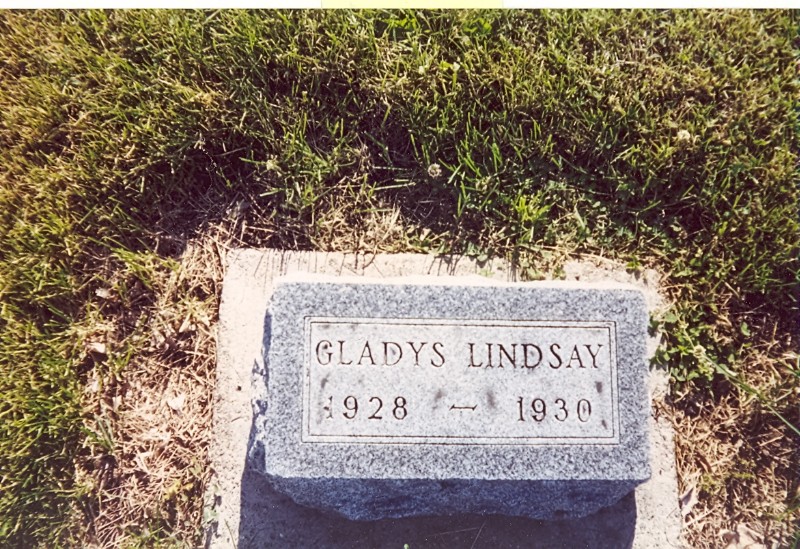 • She was buried at Onarga in Onarga, Iroquois County, Illinois.