James Gillmore Lindsey 807
Born: 1721, Northern Ireland 807
Marriage: Hannah Turner 3 December 1744 in Bridgewater, Plymouth County, Massachusetts 382
Died: About 25 October 1785, Easton, Bristol County, Massachusetts at age 64 1385


According to J.C. Stinchfield's The History of the Town of Leeds, Androscoggin County, Maine, a Scotch widow, whose name is not mentioned, living in the North of Ireland, traveled to America with her two young sons, James and Thomas, aged two and four respectively, about the year 1725 and settled in Bridgewater, Massachusetts where the mother had relatives, which gives James an approximate birth year of 1721.

Little is known about James Gillmore until he marries Hannah Turner, a daughter of William Turner and Eleanor (Whitman), 3 December 1744 in Bridgewater, Massachusetts at the age of 23. She was two years older than her husband.

Between 1749 and 1759, James purchased and inherited approximately 31 acres of land lying partly in Easton, Bristol County and partly in Bridgewater, Plymouth County. He also inherited property by way of his wife's relations in 1758.

Hannah Turner, a cousin to his wife of the same name, bequeathed onto Hannah [Turner] Lindsey one half purchase right of her undivided lands in the town of Bridgewater and subsequently assigned James Lindsey sole executor of her last will and testament. James was to make a true and perfect inventory of all goods, chattels, rights and credits.

James seemed to be an outspoken individual in matters relating to the church. He appears on a petition dated 5 February 1750 on request of the Easton parish that public worship be held in private houses. His name then appears on a letter to Rev. George Farrar protesting against his accepting call to minister at Easton dated 13 May 1754 and again on a letter of protest to the Ecclesiastical Council against ordination of Rev. George Farrer of Easton dated 26 March 1755. Later that year on 3 December 1755, James appears on a list of ratable inhabitants of Easton.

In April of 1757, James enlisted as Private in Commander Eliphelet Leonard's regiment for the town of Easton during the French & Indian War. No details of his service are provided.

According to the History of the Town of Leeds, Androscoggin County, Maine, "No fruit was born of this marriage." The probate record of James Gillmore Lindsey substantiates this claim. Hannah [Turner] Lindsey testifies, "I, the husband's widow to James Lindsey of Easton ... being of old age and infirm body and having no children of my own ..." With no heir to the Lindsey estate, James willed all his property as an absolute estate of inheritance in fee simple to his nephew William, eldest son of Thomas Sr.


Events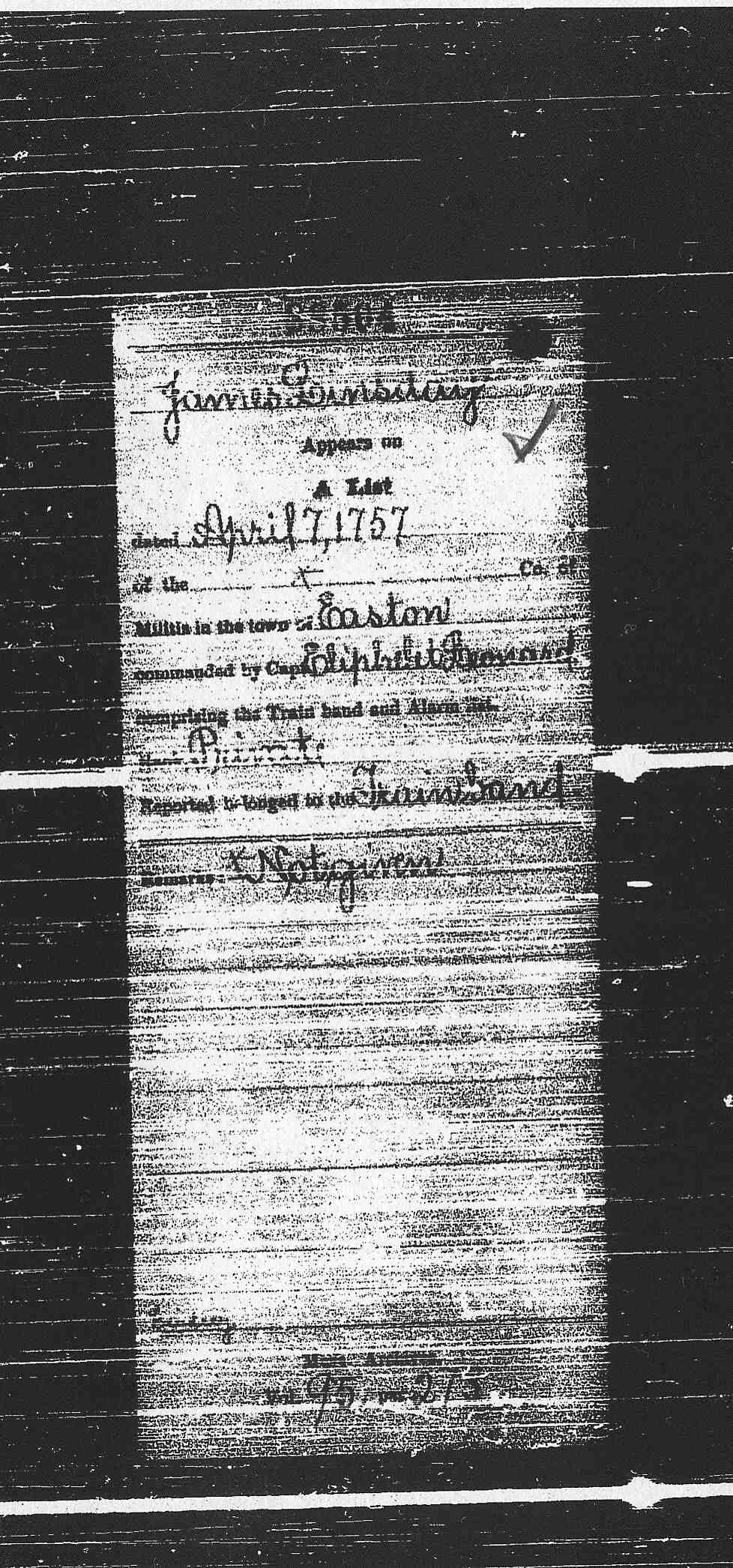 • He served in the military during the French & Indian War in Easton, Bristol County, Massachusetts. He appeared on a militia list as private dated 7 April 1757 in the town of Easton under a company commanded by Eliphelet Leonard.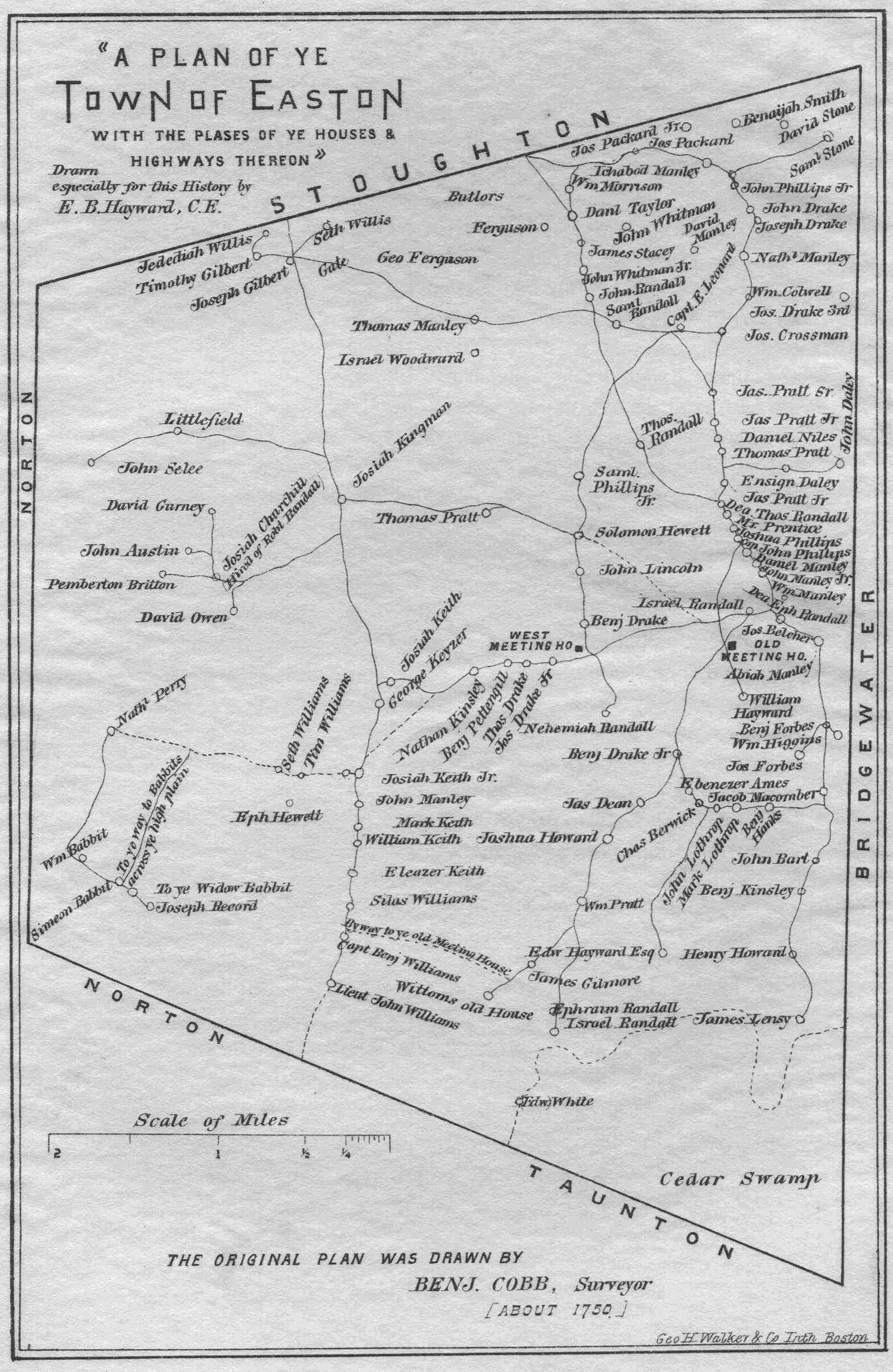 • He owned property in Easton, Bristol County, Massachusetts. His estate was located partly in the south eastern portion of Easton and partly in the south western portion of Bridgewater, Massachusetts.
• He was Presbyterian.

James married Hannah Turner, daughter of William Turner and Eleanor Whitman, 3 December 1744 in Bridgewater, Plymouth County, Massachusetts.382 (Hannah Turner was born 17 April 1719 in Bridgewater, Plymouth County, Massachusetts 811 and died after 25 October 1785 1385.)