Morrison Herbert Foster 776

Another name for Morrison was Slim.


Bangor Daily News
Bangor, Maine
Monday, May 3, 2004
p. B6

MORRISON H. "SLIM" FOSTER, SR.

NORTH WINDHAM - Morrison H. "Slim" Foster, Sr., 67, of 66 Gray Road, died Dec. 29, 1984, at his home.

He was born in St. Albans, the son of John and Letha (Cole) Foster. He had resided in Steep Falls and lived in North Windham for the last 24 years. He was a master mechanic, formerly worked for the Rossi Construction Co. and most recently worked for Cook Cement Co.

He is survived by his wife of 49 years, Evelyn (Monroe) Foster of North Dedham; three sons, Jack Foster of York, Morrison Foster, Jr. of Limington and Patrick Foster of Scarborough; two daughters, Priscilla Brobst of North Yarmouth and Joan Little of Oak Harbor, Wash.; three sisters, Amber Pearl of St. Albans, Goldie Wells of North Windham and Crystal Foster of South Laguna, Calif.; 13 grandchildren; two great-grandchildren.

Funeral services will be 2 p.m. Monday at the East Windham Community Church. Interment will be in Dolley Cemetery, Windham.


Events
• He had a residence in Garland, Penobscot County, Maine.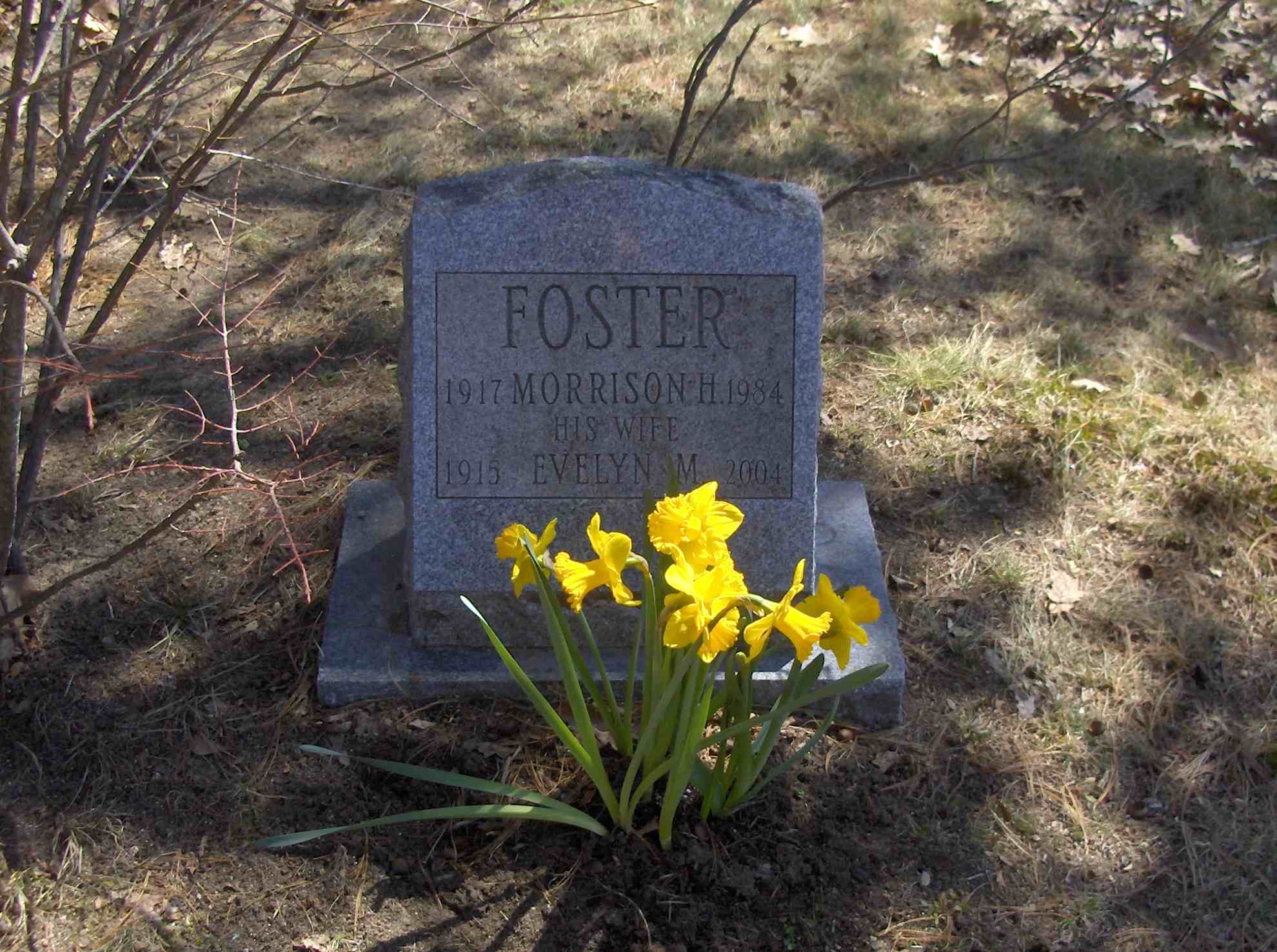 • He was buried at Dolley Cemetery in Windham, Cumberland County, Maine.

Morrison married Evelyn Ruth Monroe, daughter of Wilbur Wallace Monroe and Sara Crabtree Lindsay, 24 December 1935 in Maine 426.,776 (Evelyn Ruth Monroe was born 27 February 1915 in Carroll, Penobscot County, Maine,272,776 died 2 May 2004 in Freeport, Cumberland County, Maine 1786,1787 and was buried after 2 May 2004 in Windham, Cumberland County, Maine at Dolley Cemetery 1787.)