Henry Troupe 1962
Born: 25 April 1800, Philadelphia, Philadelphia County, Pennsylvania 1962
Marriage: Mary Ann Little in 1834
Died: 8 April 1859, Middleport, Iroquois County, Illinois at age 58 1962
Buried: After 8 April 1859, Watseka, Iroquois County, Illinois at Oak Hill Cemetery


Portrait and biographical record of Iroquois County, Illinois
Chicago; Lake City Publishing Co., 1893
http://www.rootsweb.com/~ilicgs/bio/bio.htm

HENRY TROUP, an honored and influential pioneer of Middleport, Iroquois County, Ill., was born in Baltimore, Md., April 25, 1800. In early life he removed with his parents to Canton, Stark County, Ohio, and afterward to Manchester, of the same county. After attaining to mature years, he was there united in marriage, in 1834, with Miss Mary Ann Little, who was born in Columbus County, Ohio, on the 11th of October, 18l4 and is a daughter of John Little.

Mr. Troup engaged in merchandising in Manchester, which he continued until his removal to Illinois in August, 1838. He had come to this State in 1837, and selected a site for a home and business at what has since been known as Middleport, also hired a man to build a house for him. To his new home he brought the family the following August, accompanied by his father-in-law, John Little. When they arrived, the house for which he had contracted was not completed, and the whole party had to camp under a large tree on the bank of the river for about six weeks. The Troup dwelling was a two-story frame, the first building erected in the place. It was built on lot 7, block 4, and his store, which was subsequently completed just across the street from the dwelling, was 16x24 feet. The first building was used by him for a hotel for about two years, after which he erected another dwelling close to his store and removed to it. He was a man of means, possessed of great energy and good business ability, and soon became the leading spirit of the place. He prospered in business and accumulated a large property. At one time he owned sixteen farms and between twelve hundred and fifteen hundred acres of timber-land besides.

Mr. and Mrs. Troup were blessed with a large family numbering seven sons and three daughters, of whom three sons and two daughters are now living. Henry, the eldest, died in infancy; Theodore married Anna Mason, of Wisconsin, and resides in Deuel County, S. Dak.; Louis married Sabra V. Thomas, and died January 12, 1863; David married Harriet Hawn, of Ohio, and died November 16, 1862; Melvina died at the age of eleven years; Edward was a soldier of the late war, a member of Company A, Seventy-sixth Illinois Infantry, and died July 11, 1863, from disease contracted in the trenches in the siege of Vicksburg; Elenora is the widow of Joseph Horton, of Middleport, Iroquois County; Caroline married Capt. Abraham Andrew, Postmaster of Watseka, who is represented on another page; Alfred married Isabel Lindsey, and resides in Dover Centre, Minn.; Charles wedded Eva Vivian, and resides at the old home in Middleport.

On the 29th of December, 1869, Troup's Addition to Watseka was recorded. The plat, covering a large portion of the southwest quarter of the northwest quainter of section 32, Middleport Township, was laid off by Theodore and Anna F. Troup. In politics, Mr. Troup was a Democrat and for several years was Postmaster of Middleport, and held various local offices. His death occurred April 8, 1859. He was a man of unusual size, being six feet two inches in height, and weighing three hundred and forty pounds. Both he and his worthy wife were noted for their indefatigable energy and industry, upright and honorable lives and broad-banded benevolence. In addition to their arduous duty of rearing and providing for a family of ten children of their own, they brought up, clothed and educated five others who had been left at a tender age to make their own way in the world. In addition to this they cared at times for other children who were in want. Mr. Troup, his wife and family were Presbyterians, and the first religious services held in Middleport were held in their house. They were active in effecting the organization and in the support of the Presbyterian Church of Middleport. In his intercourse with the world, Mr. Troup was affable and courteous, and his integrity was above question. Domestic by habit, he was attached to his family, and enjoyed the high esteem and respect of all who knew him.



Events
• He worked as a carpenter and store owner.
• He had a residence in Baltimore, Baltimore County, Maryland.
• He had a residence in Stark County, Ohio.
• He had a residence in Middleport, Iroquois County, Illinois.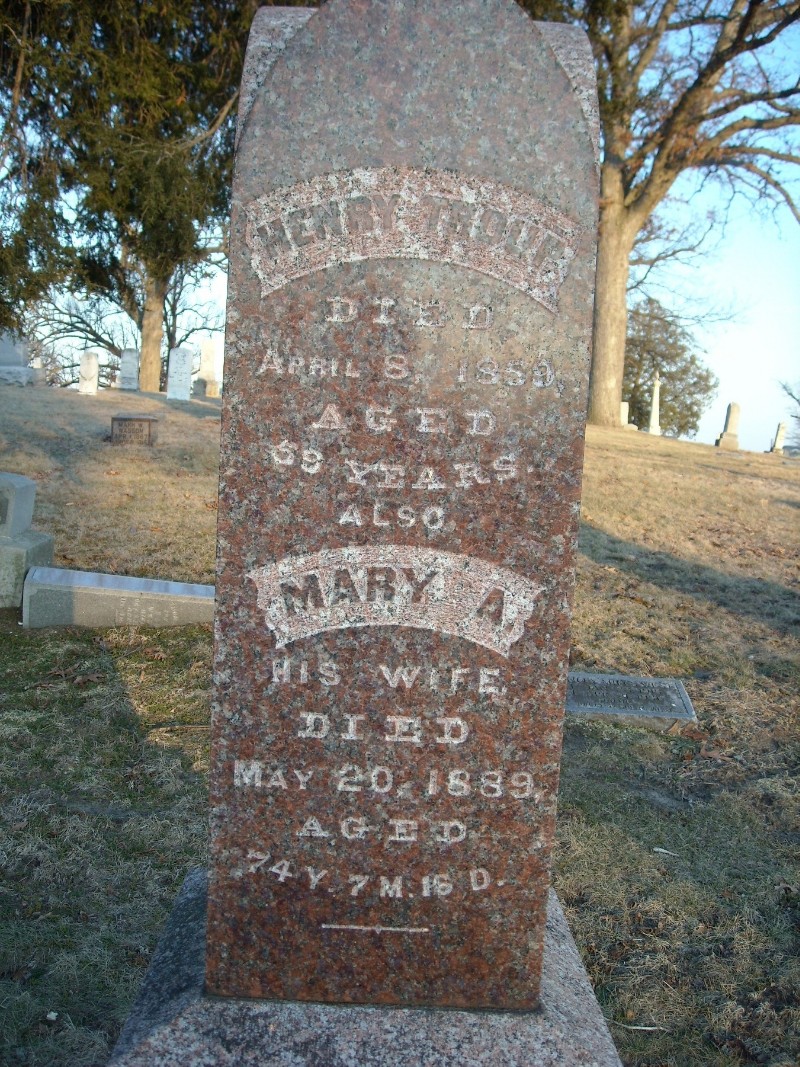 • He appeared on the census in 1850 in Vernon, Crawford County, Ohio. He was head of household. His real estate was valued at $800.

Henry married Mary Ann Little in 1834. (Mary Ann Little was born 11 October 1814 in Columbus County, Ohio,1962 died 20 May 1889 in Watseka, Iroquois County, Illinois 1962,1963 and was buried after 20 May 1889 in Watseka, Iroquois County, Illinois at Oak Hill Cemetery.) The cause of her death was senility.